Feb 19, 2021
While the state has long been an example of stunning inequities, California's current slate of crises have combined to intensify the so-called 'tale of two Californias.'
The state's working families have for years faced a crisis of affordability. On top of sky-high housing costs, California families pay nearly 50% more than the average of the other states for gas, and over 50% more for electricity.
As Dan Walters concluded in CalMatters last year: "The most important factor in California's high, and apparently increasing, level of poverty is not income, but our very high cost-of-living." These impacts are acutely felt in the Central Valley, which has been dubbed the "Appalachia of the West."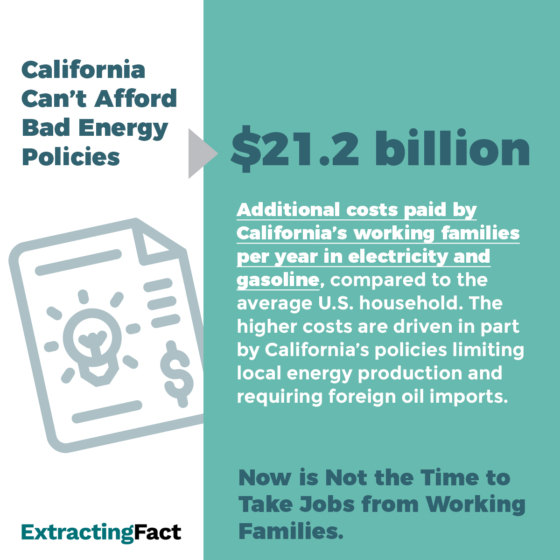 Governor Newsom campaigned on addressing inequities and bringing greater economic development to inland regions including the Central Valley. But despite the clear and ongoing challenges – and the alarming statistic that 40% of the state's residents sit at or below the poverty line – Sacramento leaders have seemingly worked against that goal.
The state has pursued energy policies that reward coastal elites for buying electric vehicles and solar panels while driving costs up for inland communities and low-income households. Government agencies have held up energy permits – a key source of economic activity for the Central Valley – while some politicians continue to push policies that will devastate the region's communities by killing more than 30,000 jobs and raising household costs even further.
While coastal communities have thrived – the professional class benefitted from massive stock market gains and options to work remotely during the pandemic – inland working families have struggled. California's COVID-19 economy has resulted in 1 million fewer jobs for workers without a college degree.
So, it should be no surprise that the distribution of lifesaving vaccines would follow the same unequal storylines. For weeks, Central Valley leaders have been pleading for more doses and support, only to see mass vaccination centers get placed elsewhere in the state.
As the Modesto Bee Editorial Board points out, no matter which way you view the situation, Central California is getting left behind:
"Did they really think we wouldn't notice that Napa and Marin counties have scored 18,149 and 17,796 doses per 100,000 residents, respectively, while grudgingly kicking (as of Wednesday) 9,730 per 100,000 over to Stanislaus and a mere 5,673 to Merced?

… Of California's 58 counties, Stanislaus ranks 39th in number of vaccine doses per capita, followed by even more appalling Fresno (40th), San Joaquin (43rd), Mariposa (56th) and Merced (57th).

Leaders in both Stanislaus and Merced counties on Tuesday said they've tried in vain to find out why the state's secret distribution formula frowns on this area."
The Bee's Editorial Board summarizes their "infuriation" with the vaccine rollout this way: "It's as if someone said, 'Let's give more of these life-saving doses to the educated, the rich, the powerful and the politically connected. We'll get to the have-nots eventually.'"
In response to criticism over a sluggish start to vaccine distribution statewide, a new distribution plan involving Blue Shield and Kaiser Permanente will reportedly prioritize some Central Valley counties starting later this month. However, the plan is not final and it too has faced criticisms.
To be sure, Sacramento can't be blamed for COVID-19, and leaders across the state have faced unparalleled challenges since the pandemic began. But the 'tale of two Californias' is not a pre-determined destiny. Rather, it is the direct and shameful result of policies and priorities pursued by government.
Helping the Central Valley starts by providing communities with their fair share of lifesaving vaccine – and then halting the pursuit of policies that would devastate the region's already struggling working families.