Feb 12, 2021
This week, Californians for Energy Independence (CEI) releases new ads highlighting the consequences of bad energy policies currently being considered by the state legislature.
Focused on the Central Valley, where unemployment has hovered above 10% for nearly a year, the 'Stop the Energy Shutdown' series gives voice to the families and communities who would be directly harmed by a ban on hydraulic fracturing or an unnecessary statewide setback mandate.
"At a time when we need support recovering from the pandemic, some Sacramento politicians are pushing drastic proposals to shut down our local oil and gas production, putting even more people out of work," explains Ryan Jacobsen, a fourth-generation Central Valley farmer. "Sacramento politicians are leaving us behind at a time when we need help the most."
More than 30,000 jobs hang in the balance. And as Bakersfield small business owner Blodgie Rodriguez points out, the policies under consideration would not only put people out of work but also "force the state to import more oil, resulting in even higher gas prices."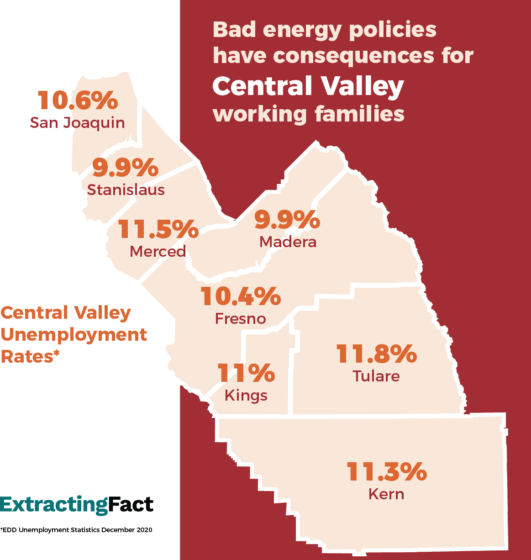 California's working families already pay billions more per year for gas and energy than the national average, and the state already imports more than 70% of the oil it needs every day. A production shutdown – or a continued reduction in permitting for new production activities – would increase California's heavy dependence on foreign oil even further while raising costs for consumers and businesses who can least afford it.
Energy worker Brandon Clark says blanket shutdowns and other job-killers are "not the kind of help we need" to recover after such a difficult year, and certainly the one-fifth of Californians who sit at or near the poverty line would agree.
Hopefully Sacramento will listen.