Nov 30, 2020
As Los Angeles considers new oil and gas 'setback' or 'buffer zone' regulations, recent meetings of the City Council's Committee on Energy, Climate Change and Environmental Justice should give local officials and residents pause.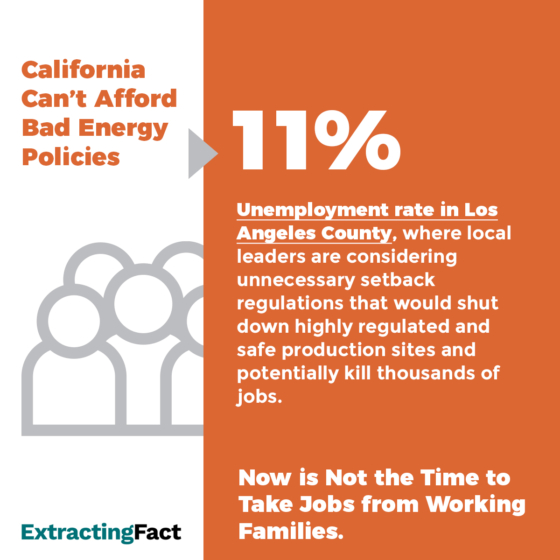 While the City Attorney has recently concluded that the City Council has the legal authority to pursue the policies, public comments and the Committee's discussion have outlined the harsh realities that would come with buffer zone mandates which the City Attorney warned could give rise to significant litigation.
For starters, new setbacks would directly lead to higher costs for consumers via an increased dependence on foreign oil. The city already faces a staggering affordability crisis, with some of the highest gas, utility, and housing costs in the country. Shutting down local production and requiring more energy imports to power the Los Angeles economy would necessitate expensive upgrades to California's ports and refineries – costs that undoubtedly would be passed along to consumers and businesses.
In addition, setback regulations would kill thousands of jobs at a time when Los Angeles faces double-digit unemployment and a long economic recovery from the COVID-19 pandemic.
Cutting jobs also means cutting tax revenues for the City budget which has been devastated in the current crisis. New estimates show a massive shortfall for the City budget in excess of $600 million, which will likely require cuts to city services and public safety departments. The head of the City Council Budget Committee recently told the Los Angeles Times that, "Given the severity of the budget crisis we are facing, all options are on the table — including layoffs."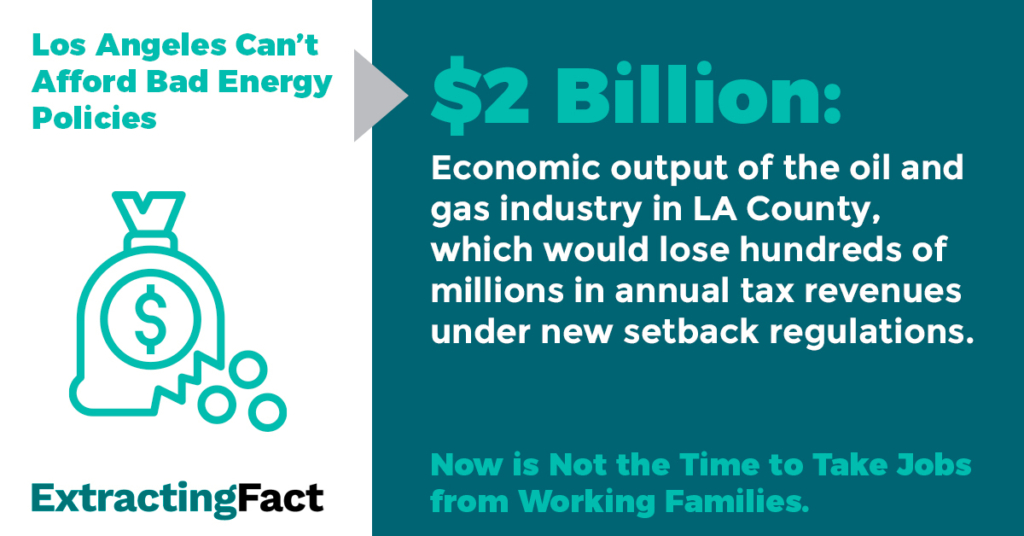 Creating buffer zones would also worsen the City's housing crisis, since the policies would prohibit any new housing around existing oil and gas fields.
Furthermore, as an attorney for the City government noted in a meeting last month, any action on setbacks is sure to land in court – exposing Los Angeles to expensive and lengthy litigation over the controversial policies.
Proponents of setbacks say they are necessary to protect public health, but years of studies have not substantiated those unproven claims. As the City of Los Angeles Petroleum Administrator stated last year in a comprehensive review of the scientific record on setbacks:
"There is a lack of empirical evidence correlating oil and gas operations within the City of Los Angeles to widespread negative health impacts. The lack of evidence of public health impacts from oil and natural gas operations has been demonstrated locally in multiple studies by the Los Angeles County Department of Public Health, the Los Angeles County Oil & Gas Strike Team, the South Coast Air Quality Management District and the comprehensive Kern County Environmental Impact Report and Health Risk Assessment."
The consequences of pursuing setbacks are coming into focus in Los Angeles: Higher costs for consumers, lost jobs for working families, reduced revenues and expensive litigation for the city – all for 'buffer zones' that studies say won't improve public health.