Jul 26, 2021
In an attempt to ease anxieties over the jobs impacts of their oil and gas shutdown proposals, energy radicals use a common refrain: the vague notion of a 'just transition' for workers.
The fleeting buzzphrase rejects concerns about eliminating a massive industry that directly employs 152,000 people in California. Workers, the shutdown radicals claim, will simply and easily 'transition' to a new job after the oil and gas industry is gone.
There's just one problem: Data and experience demonstrate that the 'just transition' narrative isn't anything more than an empty talking point.
The traditional 'just transition' gambit portends that oil and gas workers will easily find jobs working on wind turbines and solar panels, but the numbers simply don't check out. According to federal data from the Bureau of Labor Statistics, wind turbine employment is projected to increase from 7,000 jobs to 11,300 jobs nationwide from 2019 to 2029, creating 4,300 jobs in that time. Solar installation employment is projected to increase by a total of 6,100 jobs across the country over that same period, from 12,000 jobs to 18,100 jobs.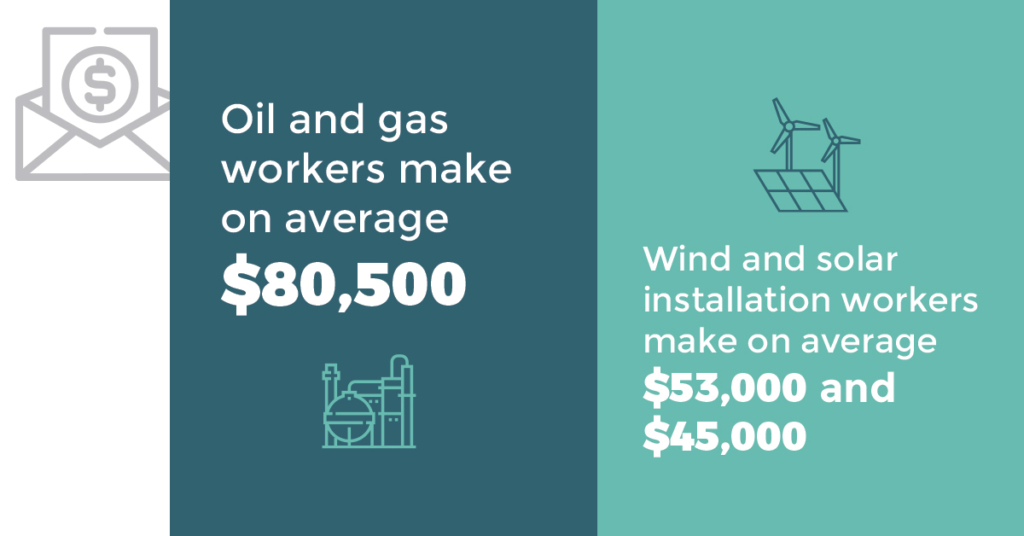 Altogether, wind and solar are projected to see a total increase of just 10,400 jobs nationwide by 2029 – amounting to less than 7% of the current number of oil and gas jobs in California.
Furthermore, oil and gas workers who 'transition' to new solar and wind jobs would take a substantial pay cut. According to federal data, the median wage for wind turbine technicians and solar installers is about $53,000 and $45,000, respectively – a far cry from the $80,500 that oil and gas workers currently make in California.
Experts agree the 'just transition' narrative is dangerously oversimplified. A report by the California Workforce Development Board aiming to inform the state legislature on 'just transition' strategies noted that "placing displaced fossil fuel workers directly into clean energy jobs is often offered as a solution to employment losses but is frequently not feasible in practice."
Importantly, the Workforce Development Board's report also analyzed past transition efforts to "provide insight into the scale and complexity inherent in a just transition program for workers and communities" impacted by policies banning oil and gas production. These programs involved massive government support for initiatives like worker retraining, job placement assistance, and regional economic development assistance. Yet, despite the huge sums of public money spent, the report found that outcomes were lagging, concluding that "these programs have had mixed results."
More recently, transition advocates have pivoted their 'just transition' narrative to argue that oil and gas workers could move to jobs plugging oil wells. The Los Angeles County Sustainability Office recently took a look at this question and found that "the job creation potential from plugging and abandoning idle oil wells is limited" and "unlikely to form the basis of a just transition strategy."
Perhaps sensing the vacancy of the 'just transition' talking point, local officials and union leaders in oil producing regions of California have started voicing alarm. At an event earlier this summer, Assemblyman Vince Fong of Bakersfield called it naïve to think that tens of thousands of oil workers could be transitioned to jobs that don't currently exist. Others at the event noted that limiting the supply of oil is unwise when the California economy still demands it in massive quantities.
Yet, Sacramento appears intent on chasing the radical shutdown and 'just transition' fantasy. The recently passed 2021-2022 state budget includes $600 million toward "regional stakeholder collaboratives to plan and implement … economic transition strategies" related to the shutdown of oil and gas production. The Governor's announcement that California will phase out oil extraction included a pledge to "develop and implement a just transition roadmap" which is due later this summer.
But the $600 million – funded with federal COVID relief dollars and allocated in a state budget unexpectedly flush with cash – is a far cry from the total need California would face under radical shutdown policies. A study released last month puts the total cost of state climate initiatives, including a wildly underestimated budget for a just transition program, at $1.4 trillion. 
Instead of producing the oil it needs under the strongest environmental and public health protections in the world, California is aiming to eliminate tens of thousands of high-paying jobs, spend hundreds of millions of dollars on likely ineffective worker transition programs, and devastate local oil-producing economies across the state – all for the right to turn around and import the oil it needs from halfway around the world.
This is what happens when radical activist fantasy gets carelessly adopted as statewide energy policy.